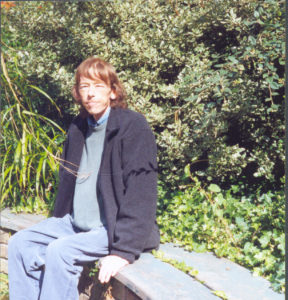 I met Jim Kimmis not long after I'd turned 17 – he was almost an exact human gestation period younger than me – and within a couple of years we became close friends and occasional collaborators. Our friendship continued until his untimely death at the end of 2006.
While Jim excelled in pretty much any field of ideas or research that he found interesting, he was also an accomplished artist (three of his paintings are at the bottom of this page), poet and writer of fiction. Over the years, most of his stories have been lost or deliberately destroyed. However, a few pieces remain – a complete, lengthy novel called Hinterland, which may one day see publication, and some experimental fictions, including the ones posted here. The Death of Stories and Natural History were created in collaboration with Deryn Rees-Jones, and published in 1993 and 1995 respectively. The Keystone was written in 2006 and is published here for the first time.
Just follow the links to read the stories (pdf versions). Note that Natural History has been split into four parts because of upload size restrictions.