In heaven's name – what am I doing?
One of the main reasons I started this site was to provide an outlet for the short stories I was occasionally producing. My preferred format for fiction is the novel – labyrinthine playgrounds to lose myself in – but I also enjoy writing shorter stories, as experiments and as a bit of fun.
The major problem with short fiction is that it's as hard to get that published as it is to get a novel accepted by a publisher. Most magazines, both printed and electronic, are either genre-specific or have strict criteria with regard to word count. These are things that really don't interest me. Most editors also demand changes in style or content, or adherence to the modern conventions of short stories; and that is something I simply refuse to do. My belief is that only the writer can write their story and they should be allowed to do so in their own way. If an editor doesn't like it, that's fair enough. The other major obstacle is that many outlets just won't give the time of day to authors who are not 'established', which in this day and age tends to mean people who are not commercial successes or don't have influential friends in the increasingly incestuous and nepotistic media.
One alternative is to write stories to enter for competitions of various kinds. While it is a possible way to get one's fiction to public attention, it has its own problems. The writer is usually restricted with regard to subject-matter and/or story length, and is generally forced to tailor the tale for a specific readership, and to write to deadlines. And that's without having to satisfy a panel of judges. While I have friends who do enter stories for competitions, and think no less of them for it, that sort of thing isn't for me.
Having my own little space on the internet seemed to me to be the ideal way of getting my short stories published. I have complete freedom to do what I like in the way I want to do it, in accordance with my own internal writing schedule. I have complete control over what happens on the site. I can post other stuff and publicise both my novels and my old non-fiction pieces. Just as importantly, I can post short stories by other writers. The last is by necessity restricted to people I know. I would dearly love to be able to publish more, but Vainglorious Lunacy is my personal space, not an e-zine, notice-board or forum; and besides, it's a one-man operation and I simply don't have the time.
All the stories posted on Vainglorious Lunacy are free to read for as long as they remain on the site. I grew up in a time of free concerts and DIY publishing – the hippie and punk eras – and those ideals are ingrained. I write because my instincts and imagination demand it, not because I want to become obscenely wealthy. I like to do things myself because it is immensely satisfying to be involved in the end-to-end process of writing and publishing. I like to roll my sleeves up and get my hands dirty. And I'd be lying if I said it wasn't a very nice way to get a bit of publicity, one that is rewarding in and of itself.
 My short fiction
The stand-alone short stories I've published here are (other than those which have found a better incarnation and been removed), in order of appearance:
Slugs and Snails (November 2012) is my attempt to inject a bit of Roald Dahl into a lonely hearts story. The pariah's unwitting revenge on banal normality.
Hell's Bells (December 2013). A Christmas story.
The Ages (November 2014). Dreams and dreams and dreams.
Nativity (December 2014). In which I round up sacred cows, rawhide them to the abattoir and butcher them before your horrified eyes. If you're offended by any of the content, look up 'lampoon' in the dictionary and get over it.
Sky-Blue and Ice-Cold (May 2015): A fairytale. A bit Grimm.
Seventeen (August 2015): A recent concert was so loud I wondered if I'd still be able to hear when it was over. That got me thinking.
A Minority Reports (March 2016): Ever wonder what happens to those movie stars. You know who I mean, the ones whose names never appear when the credits roll…?
Blank/Flash (August 2016): Crime and punishment. Justice, LA-style.
Bean Feast (December 2016): A Christmas story.
A Contract is a Contract and Dog and Pony Show (June 2017): Written in the second half of 2016, two linked satirical pieces. 
For Goodness Sake (December 2017): My now-traditional Christmas story. This one was inspired by a young woman I observed in Walworth Road a few weeks ago.
The Day the Earth Still Stood (28 April 2018): We live in strange times. And they could get stranger.
The Discovery (28 April 2018): Yeah, OK.
Wigwam Ban Man (19 June 2018): Of all the stupid ideas humans have come up with, the concept of cultural appropriation is right down there with the very dumbest.
Surviving Christmas (2 December 2018): A Christmas story, obviously.
Gaudete (18 December 2019): Another Yuletide offering.
A Touch of Pan (2 June 2020): Better the Devil you know.
Glasto vrMix 2.0 (12 December 2020): The perils of fake entertainment.
Adoration of the Magi (12 December 2020): The Christmas story. With old age comes wisdom, of a kind.
Three Spirits Encountered in a Hospital (4 April 2021): A true story, in parts. Other parts less so.
Red, Red, Red (3 December 2021): Everybody loves Christmas, right? Wrong.
The Clerkenwell Writers Asylum
The Clerkenwell Writers Asylum is a group of writers who meet in (you've guessed correctly) Clerkenwell, in the London Borough of Islington. The group has been going in one guise or another since 2009, with an ever-changing membership. I've been associated with the group since early in 2012. I have some stories on the group's website – Stained (February 2013), a story of selfishness and guilt; Midsummer Nights (May 2013), a celebration of the Summer Solstice starring familiar characters in an unfamiliar mood; High Visibility (August 2014), in which the clothing maketh the man; Roger and Out (September 2014), a short piece about innocence amid disaster; Haunted House (October 2014), a very short tale concerning a… well, take a guess; Bullshit Detector (November 2014), which pretty much says it like it is; Blue Light (December 2014), in which I realise a long-standing ambition; Taking Stick (April 2015), which sticks it to certain selfish and inconsiderate people; and Thirty Minutes (August 2015), a piece I wrote in exactly that. Visit the Asylum website if you want to find out what they're about; and please take the time to read the other stories posted there.
To date the Asylum has published four collections of short stories:

The Clerkenwell Writers Asylum First Short Story Collection
Travel to hell, outer space, Peckham and back for the price of a pint or two. Along the way, visit 1980s Amsterdam, a First World War battlefield and a frozen Scandinavian lake. In this book, assassins dispatch spies. Dangerous women cast spells. Cambridge dons gang up. And TV remotes kill. We've got survivalists, looters, sleazy motivational speakers and, yes, the Devil. The body count is incalculable.
24 cracking stories by past, present and resting members of the Clerkenwell Writers Asylum: Jo Caulkett, Danni Emery, Rebecca Evans, James Holden, Simon Jones, Lan Lieu, Laura Martz, Rob Mukherjee, Andy Munro, Denrele Ogunwa, Tom Ryan. The collection also includes 3 pieces by me.
Milk and Honey – In which a weird day at the office gets weirder.
Sucker – It starts in a graveyard and doesn't end well for the deceased.
So Fucked Up – Life really can be shit sometimes. This story came to me in a sort of horrible waking dream, and all I did was write down what I witnessed, with a bit of tidying-up later. I have no explanation and I don't want one.
The Clerkenwell Writers Asylum Second Short Story Collection
The Clerkenwell Writers Asylum want to take you on a journey from outer space to a trading room floor, via a Jack the Ripper tour. Along the way you can meet unicorns, Hansel and Gretel, and the last fifteen survivors of the apocalypse. Beds talk to their inhabitants. A man spies on a neighbour as she undresses. Jesus tries to talk to his Dad.
26 fictions by David Douce, David Gleave, James Holden, Simon Jones, Lan Lieu, Rob Mukherjee, Andy Munro and Jinaka Ugochukwu. Oh yeah, and some stuff by me:
A Trip to the Moon – bickering astronauts do something very silly.
A Case of the Obvious – an expatriate French detective suffers from a dry throat and solves crime, sort of.
Zinnie – a monstrous childhood and eigenstates.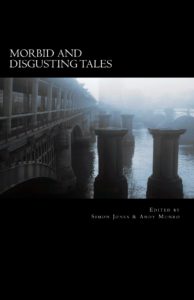 Morbid and Disgusting Tales – More Short Stories from the Clerkenwell Writers Asylum

Strippers come good, florists go bad and theologians find the dark side of light. Artists express themselves in unexpected ways. Bland office doors conceal danger and mystery, and secrets are locked away in bedrooms, boxes and beach huts. Strange things happen in alleys, on bridges and at secluded cottages. Large marine mammals drop from the sky and people fall from a variety of high places. Brexit is taken to its logical conclusion.
And there is more, much more. The Clerkenwell Writers Asylum presents a collection of stories that go right to the heart of the human condition and give it a damned good thrashing.
25 short stories that aren't really morbid or disgusting at all, by Mat Danaher, David Douce, David Gleave, James Holden, Simon Jones, Rob Mukerjee and Andy Munro, and including four from me:
Home Fires – A mystery man is kept locked in a room by an equally mysterious woman.
Blue Light – A man sings and plays cool guitar.
London Bridge – A simple task somehow isn't.
Smile – a reimagined origin for something really famous.

The Clerkenwell Writers Asylum Fourth Short Story Collection
All stories are works of imagination but within these pages, thinly veiled or otherwise, you may detect reality (of a sort). Disease stalks the land, elderly citizens are denied their rights, great walls are built or unbuilt, and vigilantes prowl our shores. Sins of varying magnitudes are committed, punished and eaten. Of course, there is love too, young love; but also forbidden, denied, repressed love. Libraries feature, as perhaps they should, but not at a swimming pool, which is probably for the best. There is fire, with or without brimstone, recalcitrant furniture rubs shoulders with imaginary daughters and, almost inevitably, there is trouble at a mill.
 27 short stories by David Douce, Rachel Firth, David Gleave, James Holden, Simon Jones, Andy Munro – and four by me:
Words of Fire – A meditation on Covid-19, lockdown and politics.
Round Here – The hazards of stopping off for a quick drink in a rural boozer.
Set Text – For the easily influenced.
Grandfather – The Grandfather Paradox…
And, with me as sole proprietor…
Sparks and Ashes

My first collection of short stories, Sparks and Ashes collects fifteen stories first published on Vainglorious Lunacy, one from the Clerkenwell Writers Asylum website, and four that had not appeared in public before.
Available now from Amazon in paperback or Kindle editions.
Possibly Dangerous
The second collection, Possibly Dangerous, gathers eleven stories that have appeared here and on the Clerkenwell Writers Asylum website, along with nine that have not appeared elsewhere.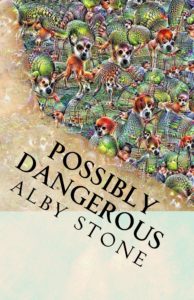 Unearthly Hours
A third collection, another twenty stories – seven previously published here or elsewhere, thirteen new ones.
Available now from Amazon in paperback or Kindle editions.
 The Yellow Room Adventures
The Yellow Room stories are a project that arose from the Havensea novels. These stories take place in the same 'universe' and feature a couple of the same characters. They prefigure events in both the Havensea trilogy and the Wonderland Investigations novels I've been working on, but stand as instalments of a kind of episodic novel. The supporting cast is stellar – including several very famous historical personages – and the stories are tied into real Second World War events.
The Yellow Room itself is based on the persistent idea that in the Second World War the British government had a team of psychics or witches engaged in fighting the Nazis' black magicians on the astral plane. It's been used by other writers – for instance, the E-Branch of Brian Lumley's Necroscope books – and according to Jon Ronson (The Men Who Stare at Goats, Picador 2004 – the film was better), and Lynn Picknett and Clive Prince (The Stargate Conspiracy, Sphere 1999) the US government has been up to something similar for many years.
As usual I've taken a lot of liberties with historical reality. The Yellow Room adventures are basically me having a lot of fun – as far as I am aware there are no laws against self-indulgence – but I've tried to use them to make a few very serious points and explore some themes that keep me awake at night.
They should be read in this order:
The Heisenberg Picture (November 2012)
The Enemy Within (November 2012)
The Confabulists Club (January 2013)
The Wild Man of Bournemouth (April 2013)
The Actress and the Bishop (August 2014)
The Beautiful Beast (August 2014)
The Rocket Man (September 2014)

Print and Kindle editions are now on available to purchase via Amazon. Print copies can be ordered through bookshops and libraries.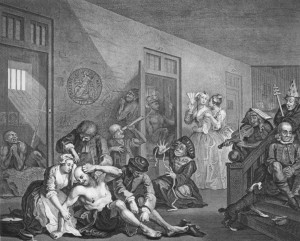 Short fiction by other people
I know some good writers and have posted some of their stories here, hopefully with more to follow. Their stories may be posted and taken down as and when they wish. The copyright and all other rights are theirs and will remain so. The only rule I have with regard to other people's work is that I won't post anything that has appeared publicly elsewhere, in print or electronic format. Please note that I do not accept unsolicited material.

James Holden, Simon Jones and Andy Munro are fellow inmates of the Clerkenwell Writers Asylum; Peter-David Smith (who is also an artist and musician) has been a friend since the 1970s. These are people whose writing I like but who I also like and respect as individuals. I am pleased to post their stories here and grateful for their permission.
Please check out the Clerkenwell Writers Asylum site and Pete's blog The Meaning of the Thing for more of their work.