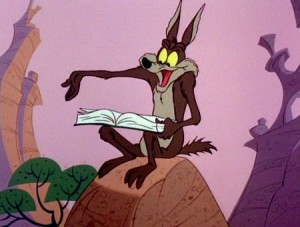 To date I have written and published sixteen novels and nine novellas, and three collections of short stories. Eight of the novels (one trilogy and a quintet) and two novellas, plus a volume of shorter pieces that should be read as an episodic novel, make up a much bigger story and should be read in the following order:
The Forgotten Stars
Secret Songs
The Hand of Fire
The Sorrows of Angels
The Shadow Woman
Disappearer
Intruder
 The Gorgon's Daughters

A Yellow Room


Third Sight

A Deeper Darkness
The first three constitute the Havensea trilogy, five of the remainder make up the Wonderland Investigations quintet. The novella Third Sight is a kind of tangential sequel to A Yellow Room but is also a stand-alone story. A Deeper Darkness can also be read on its own but is related to A Yellow Room and the main sequences. House of Dust is set in the same 'universe' but is not otherwise related.

My other books and stories are all stand-alone works. Like the conceptual series described above, they don't observe conventional genre boundaries; though a few come close to being straightforward crime fiction or ghost stories.

And here they all are. Long fiction, tall tales and wide-angle lenses. In reverse chronological order, the stories so far…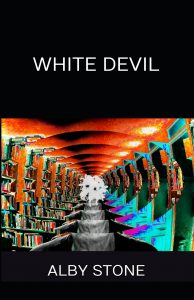 White Devil
It's the long, hot summer of 1976. Out of the blue, aspiring but unemployed writer Sean Barker lands a dream job, documenting the making of rock star Jamie Hector's new album. Sean finds himself sequestered in a mansion with the musician's eccentric inner circle, entwined in his client's strange rules and unnerving games. As the summer drags on and the temperature rises, Sean encounters a ghost, uncovers a centuries-old web of magic and folklore, and begins to question Hector's reasons for employing him. Then he discovers a terrible secret, and multiple tragedies unfold with the spectre centre stage.
But what is it?
Acid Dawn
1966. Two young people employed by an obscure and unusual government agency are manipulated into working undercover for the British security services. At first, they have fun. After all, it's the Swinging Sixties, London is the place to be, and they have more money in their pockets than they had ever dreamed. Then Zac Fielding discovers LSD – and his world changes irrevocably as he forges a peculiarly personal relationship with the universe. But while he's busy exploring inner space and London's political underground, something else is going on. Someone has a hidden agenda, and two years later the mission unravels amid betrayal, lies and bloodshed.
2017. Zac is living under an assumed name in peaceful seclusion, long since done with his former life, still trying to forget the strange and terrible events of nearly fifty years earlier. But the universe hasn't finished with him – and the past is catching up fast.
EDIE
A weekend away in the Wiltshire countryside. It was supposed to be a birthday treat for UFO-obsessed Nick Welsford, an unusual young man with a troubled past and, as he saw it, not much of a future. But it doesn't turn out to be much fun. His friends have their own agenda, involving a strange old machine and an experiment that will put them all in peril. Meanwhile, Nick struggles to reconcile an old terror with new knowledge, and is forced to question everything he thinks he knows about himself, UFOs and reality itself as his birthday descends into a long night of unearthly chaos and unforeseen tragedy.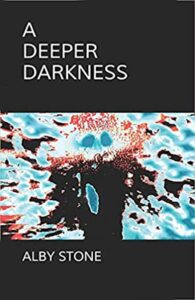 A Deeper Darkness
Siberia: September, 1944. Two troubled German officers with a shared secret lead a mission deep behind enemy lines, its purpose known only to the enigmatic scientists who will take control when they arrive at their destination – a remote location that has yet to be determined. As well as the ever-present risk of encountering Soviet forces and dealing with an unfamiliar, hostile environment, the soldiers are exhausted, plagued with sickness and running low on food. Men are disappearing, one by one.
And what awaits them in the heart of the forest is a terror greater than any they have yet faced in war, a horror worse than anything they could imagine.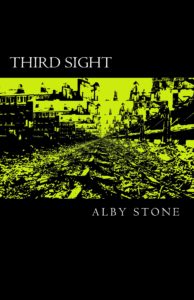 Third Sight
On a cold night in 1954 Lenny Fish is unexpectedly summoned to a meeting with a very important person. A military research project has gone awry, and Lenny's unusual talents are needed to resolve the situation. Without knowing the nature of the project – or what he is expected to do about it – he is taken to a location that doesn't officially exist, where he encounters a hostile scientist and an enigmatic soldier overseeing a bizarre experiment. Lenny watches helplessly as the project takes a direction which opens up new possibilities – and confirms his fear that success might be far worse than failure.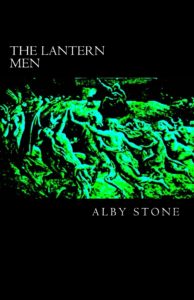 The Lantern Men
Something nasty has been festering beneath the surface of Eddleton and Saltmarsh, neighbouring Suffolk towns with contrasting fortunes. When Saul –a  retired rocker and former academic now working as a civilian case reviewer with the  local police – is asked to look into a decades-old unsolved murder, disturbing secrets bubble up from the depths of history. What connects a seven year-old crime wave and an outbreak of strange phenomena with sixty years of murder, centuries of witchcraft, and a tragedy in Saul's past? What is the pattern he is unable to see – and how will that help him unmask a killer?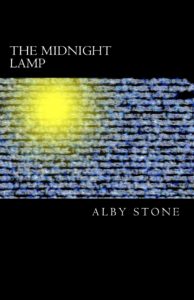 The Midnight Lamp
Growing up isn't easy for a boy who's been kissed by an angel and is adrift somewhere between magic and imagination, dreams and madness. The world around him seems to be slowly destroying itself. He's frustrated at home, sinking without trace at school, and has a problem with time. And there's the small matter of an accident he can't remember and may not even have happened, but which might just be slowly destroying his brain. If he has a future, even just the one, it doesn't look good. And his allegedly best friend has developed an obsession with trying to contact the dead. But for now – probably – it's 1967, he is thirteen years old, and there is always Jimi Hendrix.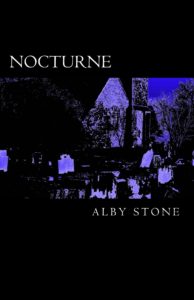 Nocturne
A call he didn't expect, from the last person he thought would ever call him. A dark and stormy night. An old flame, all alone in a remote house she claims is haunted and perhaps dangerous. Edmund North doesn't believe in ghosts, even though he's spent much of his life thinking about them – and he doesn't trust the woman he is supposed to be helping. But strange things begin to happen and he is forced to reassess his beliefs and examine his past. Someone is lying – and the liar may be him.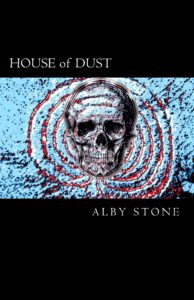 House of Dust
What happens to us when we die? Provincial newspaper reporter Niall Shelley has never given it much thought. He's young, happily married, and looking forward to an even brighter future in London. He doesn't believe in an afterlife and his own death is the last thing on his mind. Then, in the course of a routine but intriguing assignment, he meets a man who offers an opportunity to take part in research into near death experiences. Shelley smells a big story, one that could boost his career and make him famous. What does he have to lose? After all, it's not as if he actually has to die…
The Canaanite
John Maine is a paranormal researcher and television personality at the end of the line. When he meets a lonely woman on a remote Essex beach, who tells him of a modern tragedy and an old mystery, he is drawn into what may well be his last investigation, a quest that leads him back to an old friend convicted of a terrible crime and perhaps guilty of others, a man with a strange obsession. Did a race of giants once really walk the earth? Maine is sceptical but as events unfold he learns of an ancient secret, acquires a dangerous enemy, gains new friends – and finds something wholly unexpected.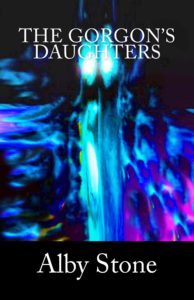 The Gorgon's Daughters
Wonderland Investigations is temporarily out of business. For two long years Charlie and Maddie have been pursued across Europe by the murderous human agents of a relentless otherworldy force. At last, tired of living as fugitives, they decide to take the fight to their enemy. They learn that a powerful ally might be found somewhere in the heart of Asia, so they set off on a journey into uncharted territory. But their quest does not go smoothly – and there is a distinct possibility that the friend they hope to find may turn out to be the very enemy they have been trying to avoid.
Woodwise
Fired from his job, kicked out by his girlfriend, and desperately short of money – and it's all his own fault. But an unexpected inheritance gives Lou Borrow hope and a purpose, a chance to rediscover himself and make a fresh start. He has also inherited a puzzle that leads to both riches and a dark secret. Woodwise is no ordinary house. And Lou may not be as alone as he thinks.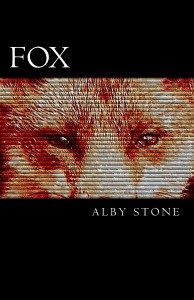 Fox
A boy, a girl, a murder.
1980: The seaside town of Eastbridge is rocked by the brutal slaying of young Elena Cassidy. Her boyfriend Jack is the prime suspect – but although he is released without charge, the police announce they are not looking for anyone else in connection with the crime. People draw their own conclusions and Jack leaves under a cloud of suspicion.
2015: When Tod Damon returns to Eastbridge for an old friend's funeral, all he wants is to pay his respects anonymously and enjoy a beer or two with his surviving mates. He doesn't expect to be recognised as the person he used to be, or to be drawn into investigating an old tragedy. While searching for the truth about Elena's death he discovers that she too had her secret side – and that beneath its veneer of respectability, Eastbridge is rotten to the core.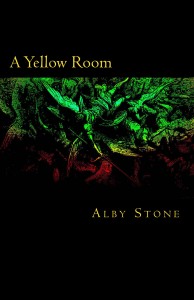 A Yellow Room
London, 1940. With the country in disarray after the retreat from Dunkirk, desperate for any kind of advantage against an implacable and well-organised enemy, Winston Churchill sanctions the creation of a special unit separate from the military and intelligence services. The Yellow Room, named for the single chamber it occupies in the War Office, is so secret that only a handful of people know what it really does. Staffed by the old, the disabled and the damaged, armed only with their minds and arcane knowledge, the Yellow Room fights the Nazis on a strange front somewhere between espionage and the imagination, between magic and science. But the war drags on and principles are compromised in the quest for victory. And Anthony Crane, the Yellow Room's leader, refuses to compromise.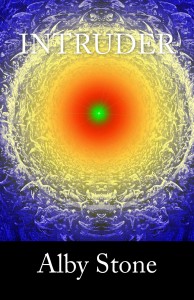 Intruder
A poltergeist is making life hell for a young family. When Charlie Alliss is called in to investigate, he is sceptical. But he gets more than he bargained for – the haunting is a loose thread in a pattern that has sent his partner Maddie to a psychiatric hospital, and involves a force which threatens far greater destruction. Charlie and his friends team up with a ghost hunter, a maverick physicist and the mysterious Yellow Room to eliminate the poltergeist and free Maddie from the entity tormenting her. In the process they discover that things are even worse than they seem. Charlie first disgraces himself, then picks a fight he can't possibly hope to win.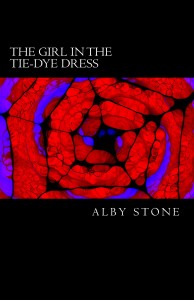 The Girl in the Tie-Dye Dress
Whatever happened to the girl in the tie-dye dress? When archaeologists make an unexpected discovery on Salisbury Plain, Detective Inspector Matt Newton is sure he is on the verge of solving a forty year-old mystery. There are, he discovers, no easy solutions. With every step the investigation raises more questions than answers. The complications include a sleazy celebrity archaeologist and a wealthy recluse who believes he is guided by spirits – and Newton's own family only adds to his problems. Gradually, a web of memory and lies emerges from the past. But who is telling the truth about what? Is there really a brutal killer at large in the peaceful Wiltshire countryside? As the tangled threads of the past are unravelled, everyone involved is forced to take stock of their lives before it is too late.
A Single Drop of Night
A young woman visits her elderly grandmother and is told a tale of doomed love, a lost story and a ghost. When she sets out to find the lost story the trail leads to a sinister village and a house haunted in an unexpected way. It's a journey that places her in an unusual kind of danger and puts her in intimate contact with a tragic horror completely outside her experience. Sarah Chase doesn't believe in ghosts – but ghosts do not listen to reason.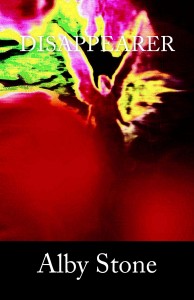 Disappearer
A woman disappears from her home in mysterious circumstances. The police aren't interested. Charlie Alliss, struggling to pick up the pieces after his latest disappointment, is called in. Another woman vanishes and Charlie fears the worst. But then he discovers there is an outside chance that the missing women might actually have been abducted by aliens.
The trouble is that although he's open to the possibility, Charlie doesn't really believe in that sort of thing. Worse still, he's beset by self-doubt and unable to come to terms with traumatic events in his own life. It looks like a case too far for Wonderland Investigations, no matter how doggedly Charlie soldiers on. But nothing is quite what it seems. The lies, deception and treachery mount up and soon he finds himself in mortal danger and facing a terrible choice.
The Shadow Woman
Things are looking up for Charlie Alliss – a new love, a new home and a new career as a Fortean investigator. Wonderland Investigations is open for business and the future is looking good for Charlie and his partner Maddie.
Then they get their first case. It seems harmless enough, nothing more than an elaborate hoax built around legends and the story of a film star who vanished in 1927. But they quickly learn that nothing about it is quite what it seems. Soon they find themselves playing a strange game against a mysterious opponent and facing an uncanny force in a house that might just be haunted, deranged vampire hunters and a serial killer. When it all gets a bit too close to home Charlie's new life begins to unravel.
Still, it could be worse. At least the undead don't really walk the earth… Do they?
Dummy
A woman takes her own life by a lake in a South London park. It's an open and shut case, or so it seems. Five years later, a chance discovery forces her family to face the fact that the dead woman was not who everyone thought she was. Private investigator Patti Moran joins forces with a jaded police detective to find out the truth about Louise White – but with each new revelation the mystery only deepens and the investigation takes a sinister turn when the trail leads to secrets some people will kill to protect. It all comes down to a simple choice: what matters more? Survival – or justice?
London 2012 – Ex-banker and perennial loser Charlie Alliss wants to be an investigator of anomalous phenomena but he doesn't know where to start. Then a woman is found dead and mutilated, the victim of a ritual murder, and he finds himself on the case. What does the ritual mean? What are the Sorrows of Angels? What connects the Whitechapel murders of 1888 with this modern killing? What has any of it got to do with Charlie?
Then the killer strikes closer to home. Accompanied by a strange, tragic and frankly annoying woman, Charlie must travel across Europe, delve into his family's past, and explore the hidden depths of his own mind, peeling away the layers of everything he thought he knew to find out what is happening and why.
The truth is more shocking than he could ever have imagined.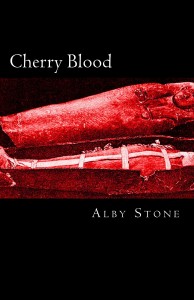 Cherry Blood
Cherry is stroppy, sarcastic and angry. The world does not live up to her expectations and she lets the world know it.
Cherry needs a job before her money runs out. The tricky part is doing it without hitting anyone.

Cherry gets a job – a really great job.

And of course, that's when everything starts to go horribly wrong. Blackmail, threats, an ancient Egyptian relic, a curse… And that's just for starters.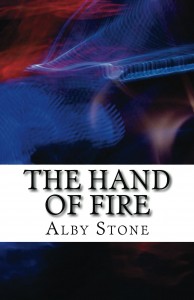 The Hand of Fire
Five years after the events recounted in Secret Songs, historian Jim Glass is happy and contented. Then an old mistake is brought to light, an old enemy returns, and an older threat emerges. Meanwhile, Jim finds out much more about himself than he ever expected. Havensea may be sleepy on the surface but something dark and strange is bubbling away underneath it all. But what is it? How can Jim stop it? And what is the price he must pay?
The Hand of Fire is the final book in the Havensea trilogy.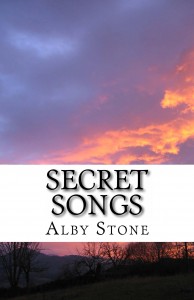 Secret Songs
Jim Glass is going back to Havensea in rather better shape than when he left and is looking forward to a long spell of peace and quiet. But trouble is stirring again and it isn't long before his life is turned upside down – in more ways than one. The Havensea weirdness gets weirder, the dead refuse to keep quiet, and a new danger emerges to keep him occupied. Then the threat takes a murderous twist and Jim's world is shattered.
Secret Songs is the second book in the Havensea trilogy.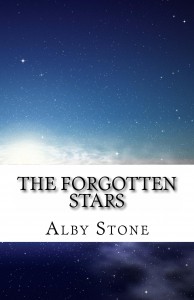 The Forgotten Stars
A controversial book and a disastrous affair have made Jim Glass a public laughing-stock and a figure of hate. Now the disgraced historian wants to get away from his past and the ruins of his career. In a secluded community on Havensea, a little-known island in the Thames Estuary, he thinks he has found peace and quiet in which to lick his wounds and make a fresh start. But history just won't leave him alone – and the island also seems to have plans for him. Pretty soon Jim finds himself in plenty of trouble and up to his neck in ancient mysteries and modern conspiracy, danger and weirdness. He learns that Havensea's secrets are not only archaeological, and that some deaths are more permanent than others. Jim also finds out a great deal about himself, including just how far he is prepared to go to protect the things he cares about. Once again there's a woman involved – but this time it's different and more than Jim's reputation is on the line.
 The Forgotten Stars is the first book in the Havensea trilogy.
All titles are available from Amazon as paperbacks or Kindle e-books, or can be ordered from bookshops.

Paperback prices are subject to fluctuation because of Amazon's discount policies, and are subject to relative currency values. Kindle prices are linked to the US dollar price.